Ross Brown Sales perform workshop certificates in accordance to Australian Standards. Various manufacturing processes require specific controlled pressure/temperature environments so it is important to ensure your instruments are reading accurate, reliable and repeatable measurements. All measuring instruments decrease in accuracy over time, some factors being general wear and tear, harsh environments, or misuse. Generally, it is recommended to calibrate your instrument every 12 months.
At Ross Brown Sales our technicians are highly trained in calibration, service and repair of a wide range of instruments such as:
Pressure Gauges
Safety Valves
Temperature Instruments (eg. Thermometers)
Loggers – Pressure/Temperature/Humidity
Pressure/Temperature Calibrators
Electronic Equipment
Manometers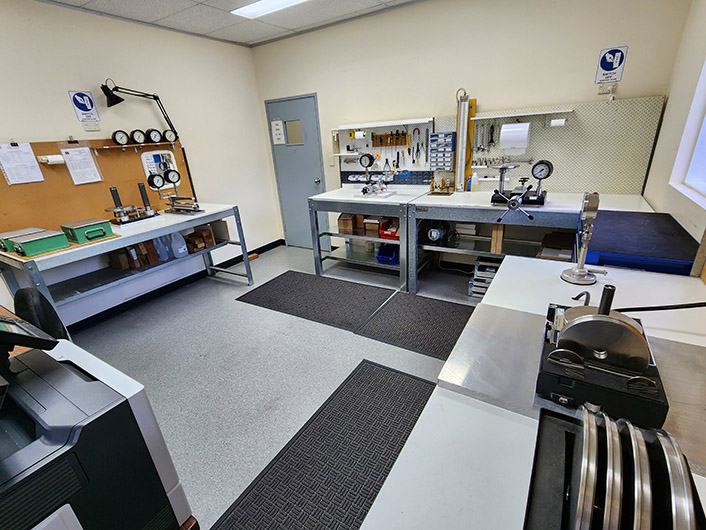 Our laboratory complies with the requirements of ISO/IEC 17025 (2017) Calibration.
Pressure Metrology Servicing
Pressure and vacuum measuring equipment
Digital pressure gauges, Manometers, Mechanical pressure gauges,
Pressure transducers, Vacuum gauges, (Gauge Pressure)
Pressure and vacuum measuring equipment
Pressure calibrators – Non-dead weight, (Gauge Pressure)

Ross Brown Sales Pty Limited Pressure Testing Laboratory is the holder of NATA Accreditation No: 1808.
We can provide our customers with calibrations and NATA endorsed certificates for pressure and vacuum measuring devices per our Scope of Accreditation.
Ross Brown Sales Pty Ltd
Pressure Testing Laboratory
21 Brookhollow Ave.
Norwest NSW 2153